The Magnificent Lemon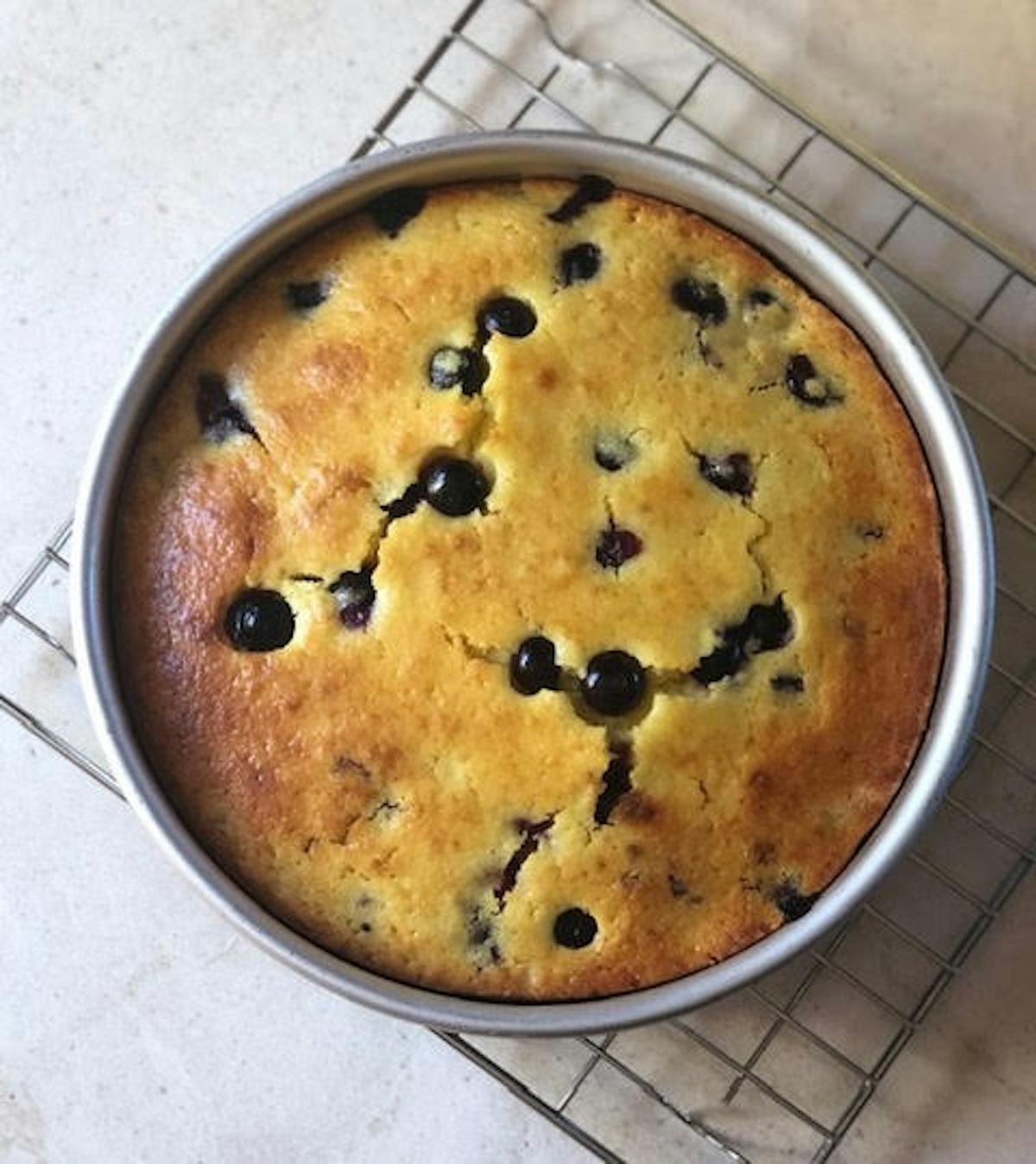 It's time for this citrus to get some respect
I love citrus season. You can find just about every variety of orange and grapefruit at farmers markets. Let all of the Cuties, Blood Oranges and Oro Blanco grapefruit take centerstage… I will happily reach to the back of the display for the lemons. Less than perfect and languishing at the bottom of the basket, the most underappreciated member of the citrus family (except perhaps for the kumquat), the lemon is still supreme to me.
So many dishes are enhanced with a squeeze of lemon, what would piccata be for gosh sakes without that lemony splash? – add dried zest to salt and see what it does to your cooking; you will be astonished. You can candy lemons and use the rinds for garnishing everything from cupcakes to cocktails, but my favorite thing to do with lemons is to use them in baking.
This lemon blueberry cake will be a new springtime favorite. It's a moister version of lemon cake than maybe you've had in the past. I dunno about you but I have had many a dry lemon cake or muffin in my days. The addition of yogurt not only adds a little extra tartness, it makes it a healthier version than those lemon "pound" cakes calling for butter. I use a bit of cornmeal in my flour mix to add a little texture to the crumb and because it boosts up the yellow color, but you can use all AP flour if you like.
But don't, add the cornmeal, it's crazy good.
Lemon Cake with Blueberries
Preheat oven to 350-degrees
Butter an 8-inch cake pan and cover the bottom with parchment paper.
1 Cup Flour
½ Cup Cornmeal
2 Tsp. Baking Powder
3/4 Tsp. Salt
1 ½ Cups Fresh Blueberries
Sift together dry ingredients.
Gently toss 1 ½ cups of fresh blueberries into dry mix.
In another bowl, gently whisk together the wet ingredients, adding the oil last.
3/4 Cup Plain Full Fat Yogurt
1 Cup Sugar (plus ¼ cup reserved)
3 Eggs
2 Tsp. Lemon Zest
1 Tbsp. Lemon Juice (plus ¼ cup reserved)
1 Tsp. Lemon Extract (optional)
1/4 Cup Oil
Using a rubber spatula, gently fold wet and dry ingredients together.Pour batter into prepared cake pan and bake for 40-50 minutes or until golden brown and toothpick comes out clean. If not using a convection oven, rotate half way through baking.
While cake is baking, heat ¼ cup fresh lemon juice with ¼ cup of sugar until sugar is dissolved. Allow to cool.
Allow cake to cool for 5 minutes and then lightly brush the top with the lemon syrup. It is not necessary to use all of it, just enough to cover top and make nice and shiny.