Main content starts here, tab to start navigating
Meet Terryl Gavre - Proprietor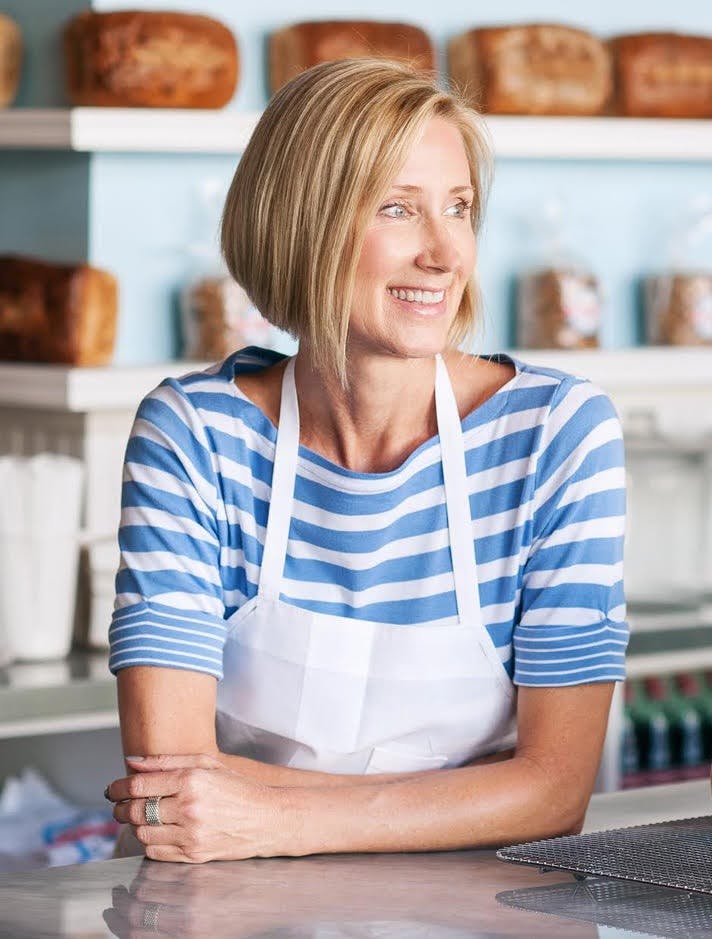 Cafe 222 got its start in 1992 when the owner, Terryl Gavre, used the money she earned from selling a screenplay to move to San Diego and open Cafe 222 – it was her dream come true.
Located in the Marina District of San Diego just a few blocks from the Gaslamp Quarter, San Diego Convention Center and Petco Park, Cafe 222 has grown with the surrounding downtown area to become a locals' and visitors' favorite. Our cafe feels like a classic dinner, complete with cozy booths and countertop dining, and our patio is perfect for taking in gorgeous San Diego days. Our pumpkin waffles, which were in Gourmet Magazine, are always a treat. Other delicious breakfasts and lunches include three kinds of eggs Benedict served on homemade buttermilk biscuits topped with poached eggs, ham, pork patty or spinach and tomato with Hollandaise; blueberry, orange-pecan or granola pancakes; and tuna melt with American cheese.
From being awarded the Gold Medallion for 'Best Breakfast' by the San Diego chapter of the California Restaurant Association 14 times, to being named 'Best Breakfast Downtown,' and topping the lists about where to eat breakfast, Cafe 222 has reached its status as an iconic San Diego restaurant.
Terryl has been working in the restaurant business since the age of 15 and has become one of San Diego's beloved restaurant owners. It's not unusual to come in and find Terryl at the door or jumping behind the counter to help the line cooks. Originally from Seattle, she got her start in her early 20s when she started a business called "The Surrogate Wife." She knew Seattle had a lot of high-income bachelors, and she built a business around them by providing a service to cook, bake and do the grocery shopping. Her company quickly grew through referrals from some of Seattle's top professional athletes and television personalities. Terryl's unconventional business attracted national media attention and she decided to make the most of all the exposure with a screenplay, which turned into a made-for-television movie on Lifetime called, "This Wife for Hire." Terryl likes to joke about her 'big role' in the movie, where she played the part of a "dumb blond."
In 1992, Terryl used the money from selling the screenplay to move to San Diego and open Cafe 222. By then, Terryl knew a thing or two about a great publicity stunt, so she put up billboards of herself around town with a waffle on her head. She became known as the 'waffle lady' and 'waffle head,' titles she proudly still holds today!
She also has a few more restaurants to her credit in partnership with acclaimed chef, Carl Schroeder. Together, they opened BANKERS HILL BAR + Restaurant in 2010, and then an extension of the restaurant at San Diego International Airport in 2014. The popular airport restaurant was named "best airport sit-down dining" by USA Today 10Best readers, one of the "10 best airport restaurants in the world" by Men's Journal, and the neighborhood eatery wins "Best Burger" time and time again by local media.
Writing is a passion for Terryl, as well, and in addition to writing a regular column for Ranch & Coast Magazine, she keeps up her own blog, "Bread & Butter is my Jam," where she combines her recipes, quirky sense of humor, entertaining tips and restaurant know-how.