Sweet, Salty and Spicy you say?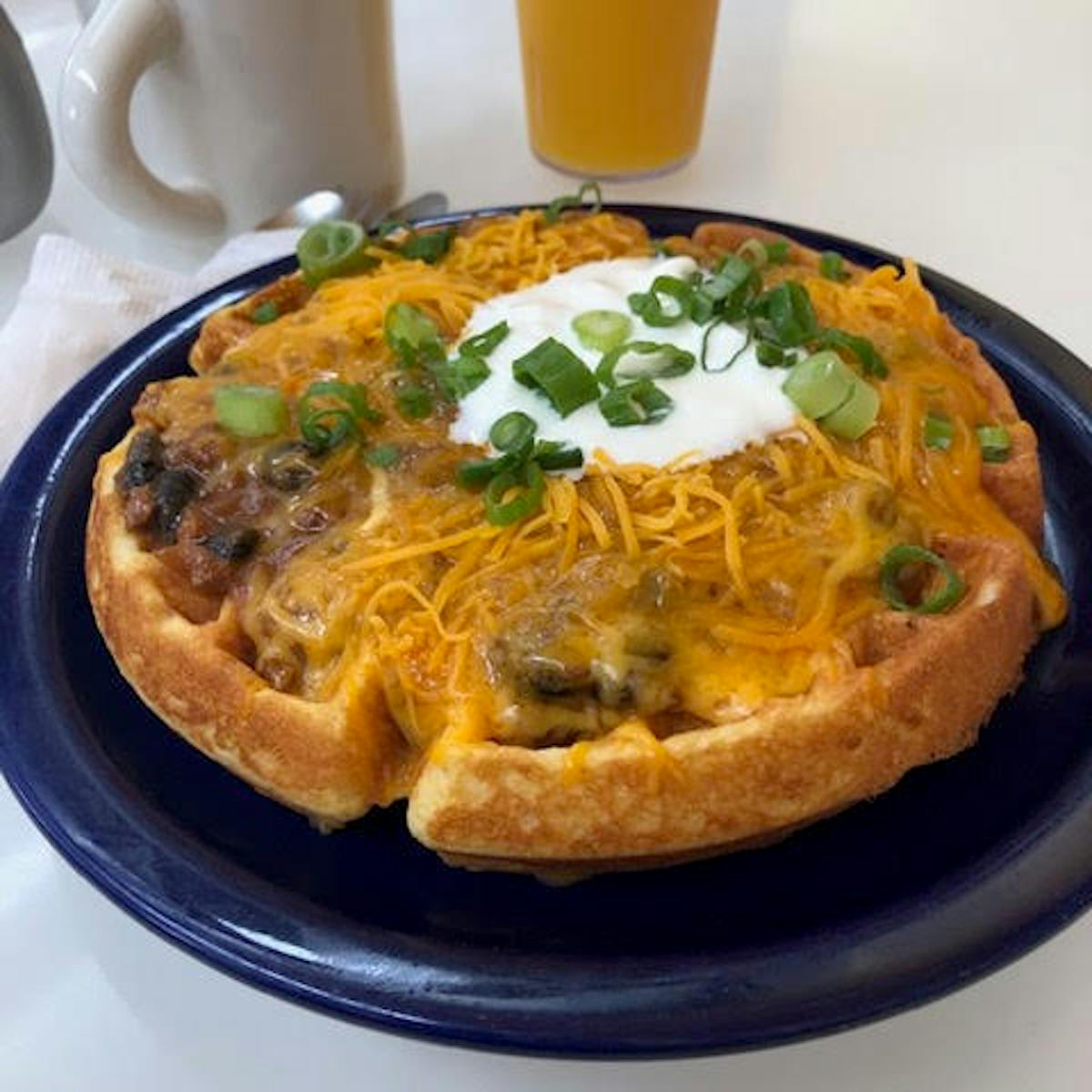 It's well known that I am a breakfast aficionado of sorts.
Self-proclaimed, perhaps, but having a place that slings a few hundred breakfasts a day, for over 25-years now makes it pretty hard to argue with, I know my game.
One item that has been on the menu at Café 222 since opening way back in 1992 has been my sweet corn waffle. One rendition or another of this crunchy, savory, sometimes sweet and sometimes spicy waffle has consistently been one of the best-selling dishes all these years and once you try this thing, it will top your stay-at-home weekend brunch list, I promise you.
At the Café we ran it for the first 15 years it as the "Sweet Corn Waffle." About ten years ago we started adding fresh blueberries to the mix and found our guests loved the combination. At Acme Southern Kitchen, we took the sweet corn waffle to the next level by adding diced jalapeños to the batter and then topping it with honey infused with jalapeño juice. The combination of savory corn, salty butter,sweet honey and spicy pepper is addictive.
I love it all three ways. Here is the version from the Southern joint;
Acme Southern Kitchen's Corn and Jalapeño Waffle
Dry Ingredients:
1 ½ Cup All Purpose Flour
1 ½ Cup Corn Meal
1/3 Cup Sugar
2 Tsp Baking Powder
1 Tsp Salt
½ Tsp Baking Powder
Wet Ingredients:
1 ½ Cup Buttermilk
1 Cup Whole Milk
3 Each Large Eggs
2/3 Cup Melted Butter, cooled
1 7 oz Can Diced Jalapeños- drained
In a large mixing bowl combine all of the dry ingredients making sure to distribute evenly.
In a medium bowl gently whisk the wet ingredients together adding the melted butter last, followed by the jalapeños. You can add less than the whole can if you like, it depends on your taste.
Combine the wet ingredients with the dry ingredients and mix only until the two are combined and no dry areas of flour remain. It is okay if there are a few lumps.
Cook the waffles in a prepared waffle iron according to the griddle instructions until golden brown.