Snicker Me Doodle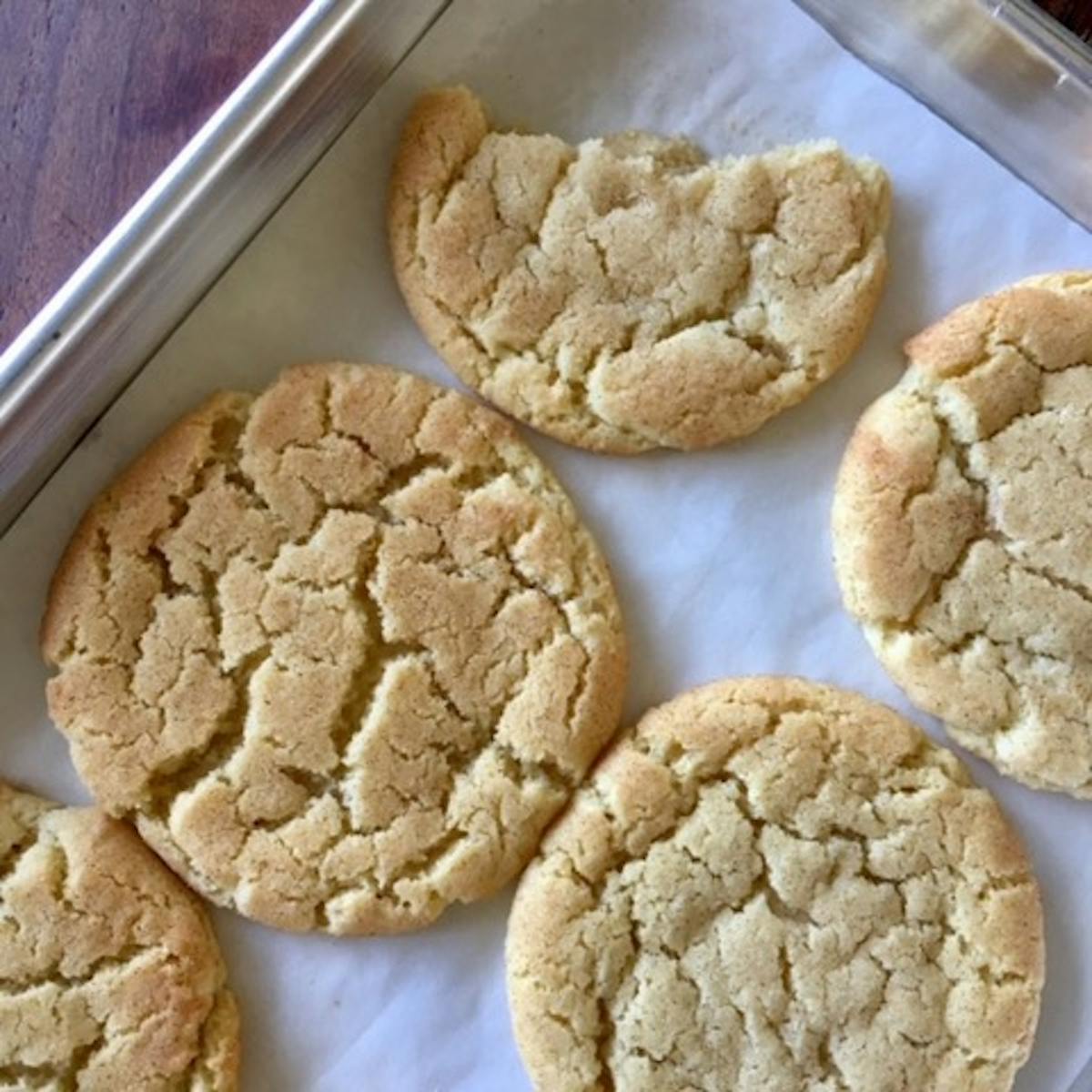 I'm not sure why I find, "Snicker me Doodle" so funny, but since I am still amused by it after playing around with the title for a few days I'm going to keep it.
One of the most popular items at the bakery was our Snickerdoodle. It's a slightly sweet, cinnamon-y, crispy-yet-bendy, cookie that puffs up till slightly golden brown, then retreats and wrinkles up creating a lovely textured top. A member of the "crinkle cookie" family (ginger snaps, chocolate crinkles and the like) and perfect with an afternoon cup of coffee or tea, I like the doodle even better pushed down into a big scoop of vanilla or chocolate ice cream. Or… better yet, how about the Banana Ice Cream recipe I shared on the last post entitled, Dairy Queen? Rich bananas, yolky cream, the crispy cookie and a cinnamon finish.
Can't you just taste it?
Bake Sale Bakery's Snickerdoodle
3 Cups A/P Flour
1 ½ Cups Sugar
2 Sticks Butter (room temp)
1 Tsp Soda
1 Tsp Salt
1 ½ Tsp Cream of Tartar
2 Ea. Large Eggs
1 Tsp Vanilla
Measure flour, salt, soda and cream of tartar into a medium bowl and whisk together to evenly distribute the dry ingredients.
In the bowl of a standing mixer cream the butter, sugar and vanilla until light and fluffy making sure to stop and scrape down the sides of the bowl once or twice.
Add eggs one at a time until fluffy.
Slowly add the dry ingredients a half cup at a time (to prevent a flour dusting all over your kitchen) and mix until incorporated making sure to not overmix.
Plop dough onto a piece of plastic wrap of waxed paper, wrap and put in the refrigerator for about 20 minutes.
Using a 2 oz. scoop make balls (about the size of a golf ball), roll into your palms to smooth and roll into a shallow bowl filled with about 3 tablespoons of sugar and 1 teaspoon of cinnamon mixed together.
Place about an inch and a half apart on a greased cookie sheet or a sheet lined with parchment paper. With a flat-bottomed water glass gently press the dough down about a half an inch to give the cookies a head start flattening.
Bake at 375 degrees for 10 minutes.