Pasta e Fagioli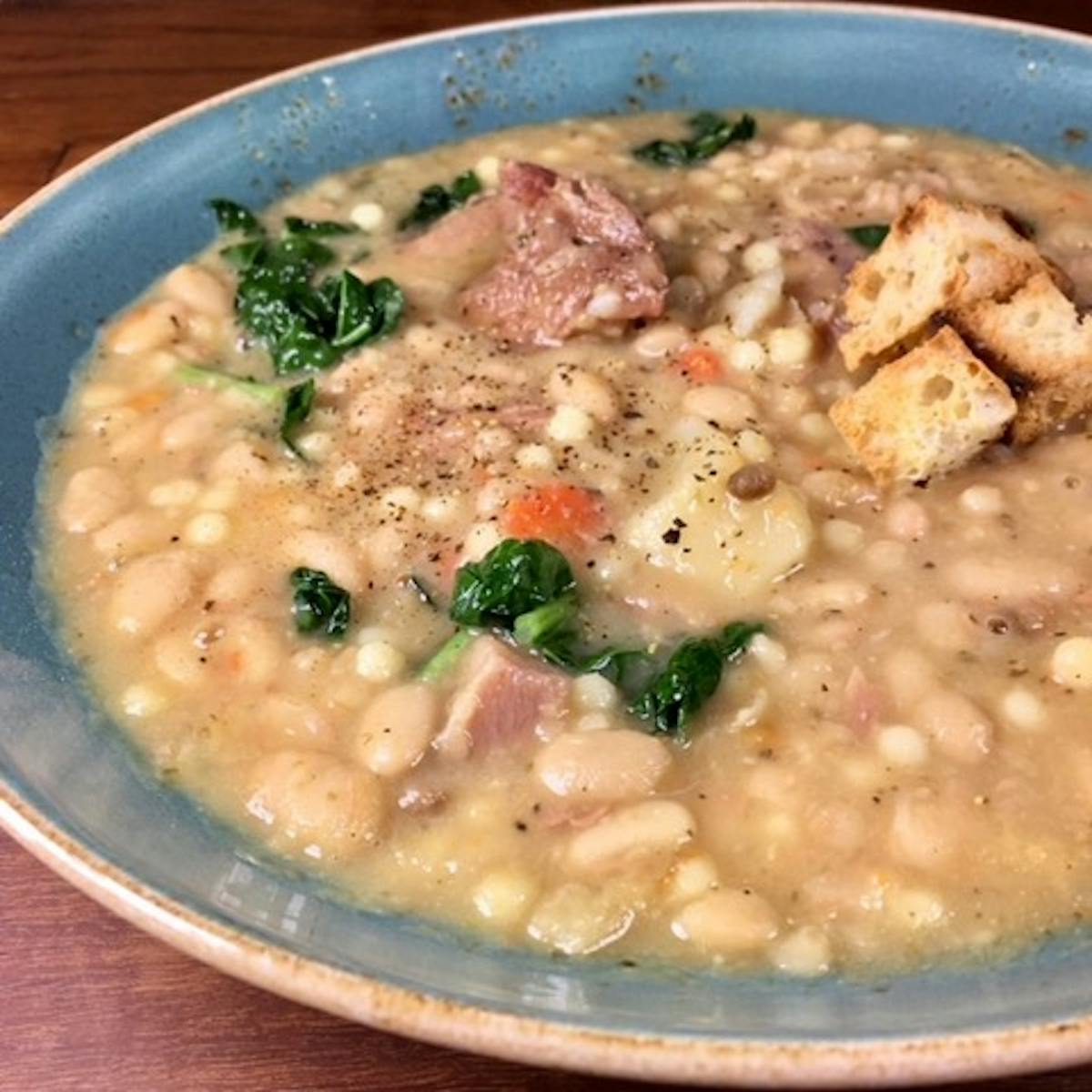 Italian Style Pasta and Bean Soup
Pasta e Fagioli has always been one of my favorite soups. I used to make it every year on Christmas Eve along with a lasagna. My recipe from years ago was a long, complicated version with about twice as many ingredients and steps. This adaptation is less work and I think every bit as delicious. The boosted flavor is due to the addition of anchovies and Parmesan cheese rind… pahleeze, don't omit them. They will melt into the soup, you won't taste them or know they are in there… you will only know if they are missing! This soup is perfect for a cool winter night by the fire with a big loaf of crusty bread and a big Chianti, or in the summer, dining al fresco with a salad and chilled Rose'
If you are planning on eating this over a series of several meals then I recommend cooking the pasta separately and adding it each time, otherwise the pasta will absorb most of the liquid and become mushy when you reheat it.
3-4 Ounces pancetta, chopped fine
1 Onion, chopped medium fine
2-3 Ribs of celery, chopped same size as onion
2-3 Carrots, chopped the same size as the onion
6 Cloves whole peeled garlic, chopped fine
4 Anchovy filets
½ Tsp red pepper flakes
1 Piece (about 2-3 inches) Parmesan cheese rind or end.
8 Cups Chicken Broth (homemade preferably- though high-quality canned will do)
1 28-ounce can diced San Marzano Tomatoes
2 Cans cannellini beans, drained and rinsed
1 Tsp Kosher Salt
½ Lb small pasta such as shells, orzo or ditalini
1 Tsp dried oregano
½ Tsp white pepper
1 Bay leaf
In a large Dutch Oven or heavy bottomed stock pot, slowly cook the pancetta to render some of the fat, then turn up to medium high, add 1 TBS olive oil and add the diced carrots, celery and onion.
Cook until vegetables are softened then add the garlic, red pepper flakes, anchovies and oregano. Cook this mixture for about 1 minute, stirring regularly until it smells delicious and the anchovies have broken down into a paste and are no longer identifiable. Add the tomatoes and use the liquid to deglaze the pan scraping up all of the browned bits of goodness left behind by the carrots, onions and pancetta.
Add the chicken broth, bay leaf, cheese, beans, salt and white pepper and bring to a gentle simmer. Allow to cook 10-15 minutes. Bring soup to a rocking boil and add the pasta, allow to cook till pasta is just tender (al dente).
Take the soup off the heat and discard any remaining Parmesan rind, adjust flavor with salt and black pepper. Immediately ladle soup into bowls, drizzle with a little olive oil, and sprinkle with flaked Parmesan.