Let's Jam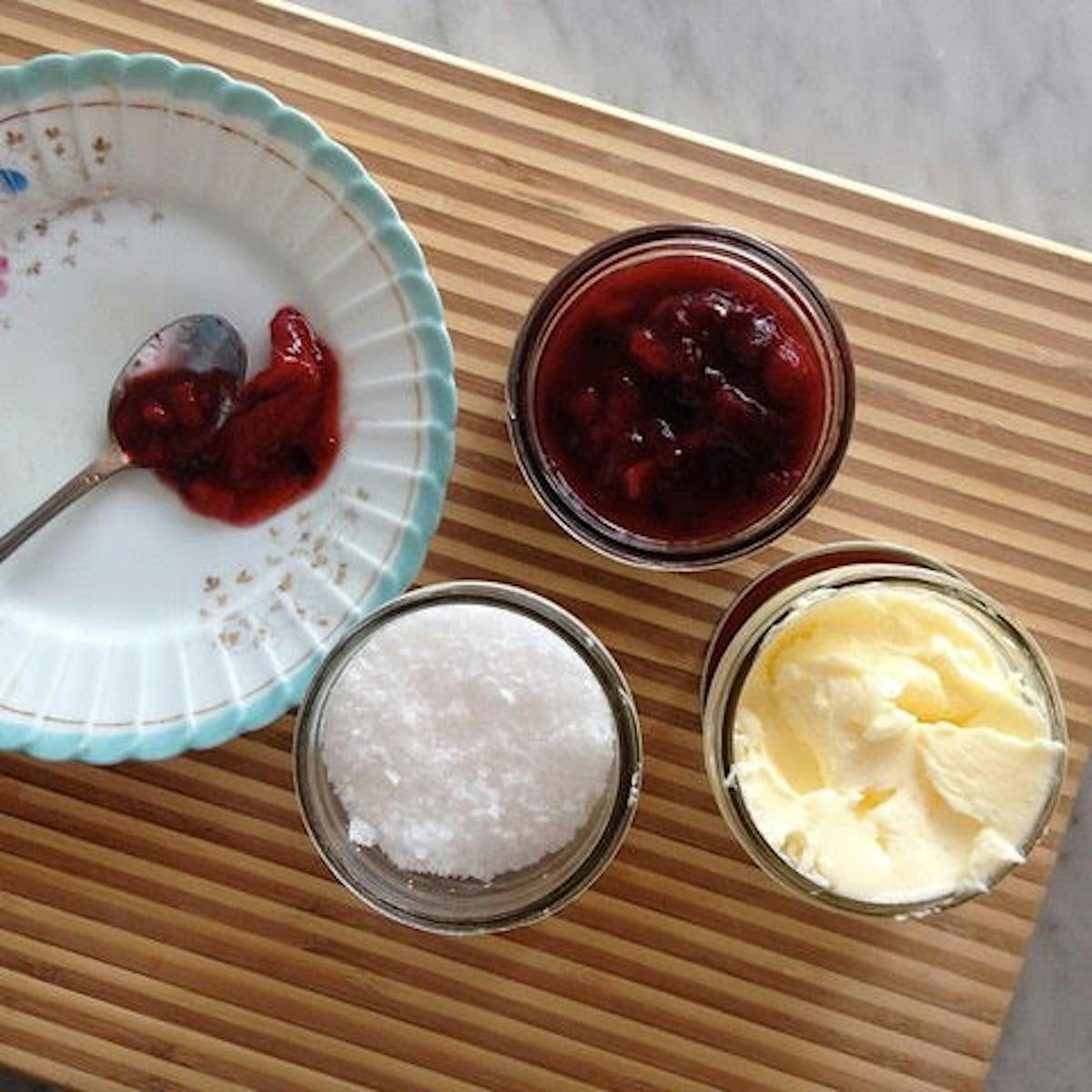 It's That Time of Year Again
Some say it has something to do with a silly Solstice, but it's officially summer in my book as soon as the farmer's markets are chocked full of strawberries. I eat them with whipped cream, dip them in chocolate, make shortcakes, and bake them into tarts. But my absolute favorite recipe for local summer strawberries is to make them into jam. Sweet, viscous and combined with just enough rhubarb to make your cheeks pucker, this is my go-to jam for buttery toast, a creamy scone or to spoon over homemade vanilla ice cream. I'm sure I ate a whole bucket of this jam myself slopped on just-griddled English muffins or on our Acme White Bread slathered with butter and sprinkled with Maldon salt.
We taught this simple recipe with much success to our beginning "jammers" at Bake Sale Bakery's class, "Let's Jam." While this method does require you to wash and sterilize your jars, it does not call for water-processing, so refrigerate your jam once it's set and use it within a month. This is also the reason I make this in small batches.
Strawberry- Rhubarb Jam
Recipe will make 7-8 half-pint jars
1 lb. Strawberries, stemmed and quartered
1 lb. Rhubarb, cleaned and sliced into quarter inch slices
1 Cup Sugar
1 TBS Lemon zest
½ Cup Juice of fresh lemon
Wash, sterilize and dry jars. Keep warm, dry and ready to use on a towel-lined sheet tray in a 250F oven.
Place all ingredients in a 4-quart saucepan. Turn heat to medium high and stir frequently with a wooden spoon until fruit mixture comes to a boil.
Turn heat to medium low, bringing the jam to a simmer. Continue reducing the liquid and stirring frequently until the fruit has thickened and temperature on an instant read thermometer is 220 F, about 20 minutes.
If you don't have a thermometer: to check if the jam is done, dab about a teaspoon on a cool plate and place in freezer for 2 minutes. Remove from freezer and hold plate vertical; if jam does not run off plate, then it is set. If not set, cook 5 more minutes and check again.
Once jam is done, remove from heat and immediately ladle or pour into jars and fill about a half inch from rim. Clean and dry rims of any residual jam and cover with lid and ring to seal. Allow to set at room temperature for 24 hours, then refrigerate for up to one month.