Let Them Eat Kale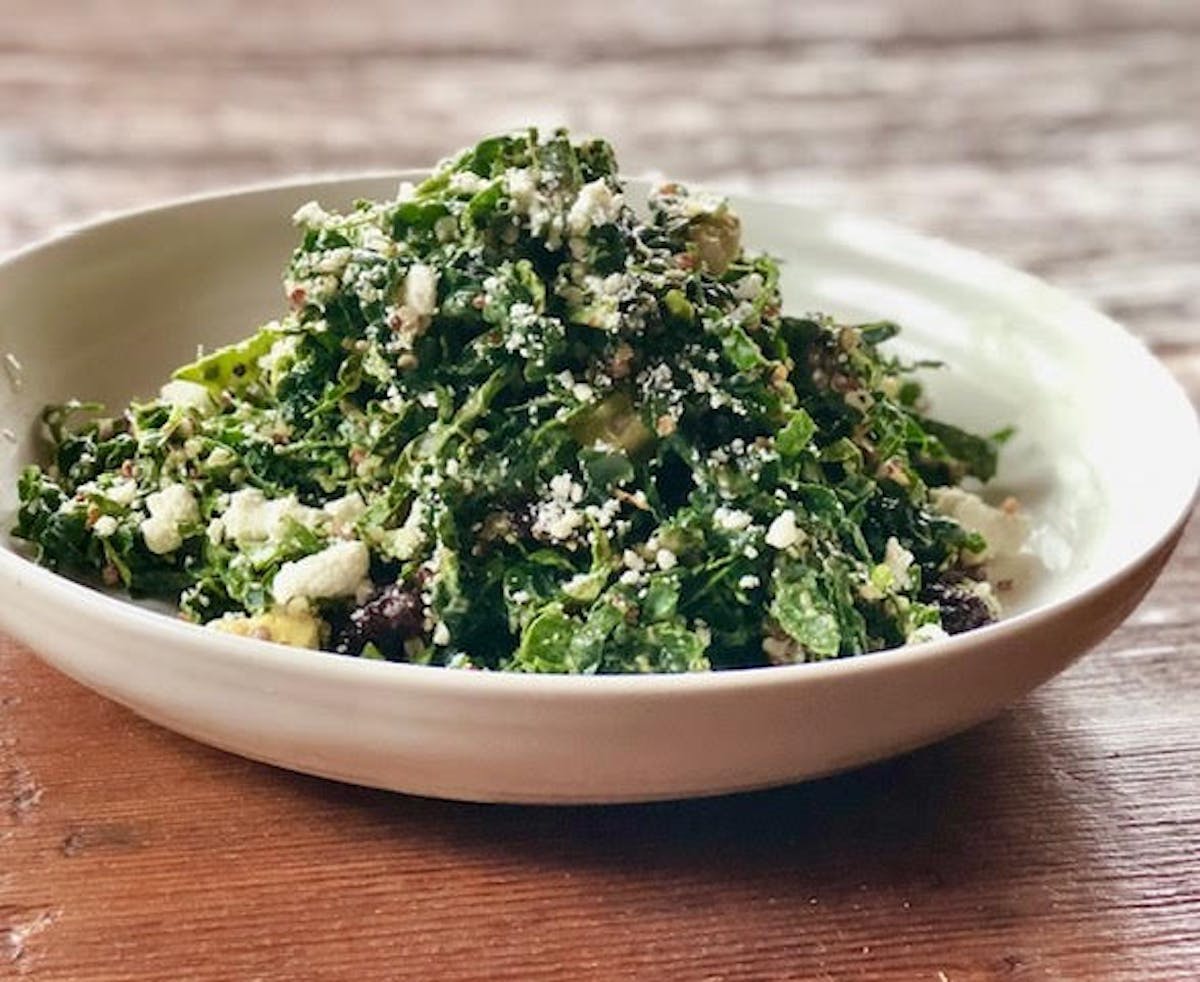 Baby Kale Salad with Apple-Maple Vinaigrette
Anyone who know me knows I never order a salad in a restaurant unless is it a wedge salad blanketed with copious amounts of blue cheese, bacon and red onions. I have been known to have a Caesar from time to time, but mostly, I have salads at home when I am making up for all of my indulgent restaurant eating.
There is one exception however… this kale salad caught my fancy (it also happens to be on the menu currently at BANKERS HILL BAR + Restaurant). When Chef Justin put it on the menu, I immediately poo-pooed it and said, "no one wants to go out to dinner and have a kale salad."
I stand corrected.
Not only is this one of our best-selling salads (I guess I am alone in my thinking,) but I also happen to like it… am sort of addicted to it. The best part is, it's a simple salad to make.
The key to the salad is to buy the freshest baby kale possible or, if you buy the larger heads, be sure to cut it thin… almost a Julienne (like for a slaw) and to use a good-quality, real maple syrup in the dressing.
I like to add my dressing ingredients to a Mason jar so that I can just shake it up and pour it directly from the jar. The leftover dressing can stay in the same jar in the fridge for a week or so.
For the Salad:
2 lbs Fresh Baby Kale
2 Whole Pears (or other seasonal fruit)
½ Cup Pomegranate Seeds
½ Cup Candied Walnuts or Pecans
For the Dressing:
4 Ounces Tahini Paste
2 Ounces Apple Cider Vinegar
1 Ounce Maple Syrup
1 Ounce Water
In a medium sized bowl, toss together all of the salad ingredients.
Shake all of the dressing ingredients in a Mason jar and dress the salad to your liking.
Gently toss and serve immediately.