In the South They Call it "Slab Pie"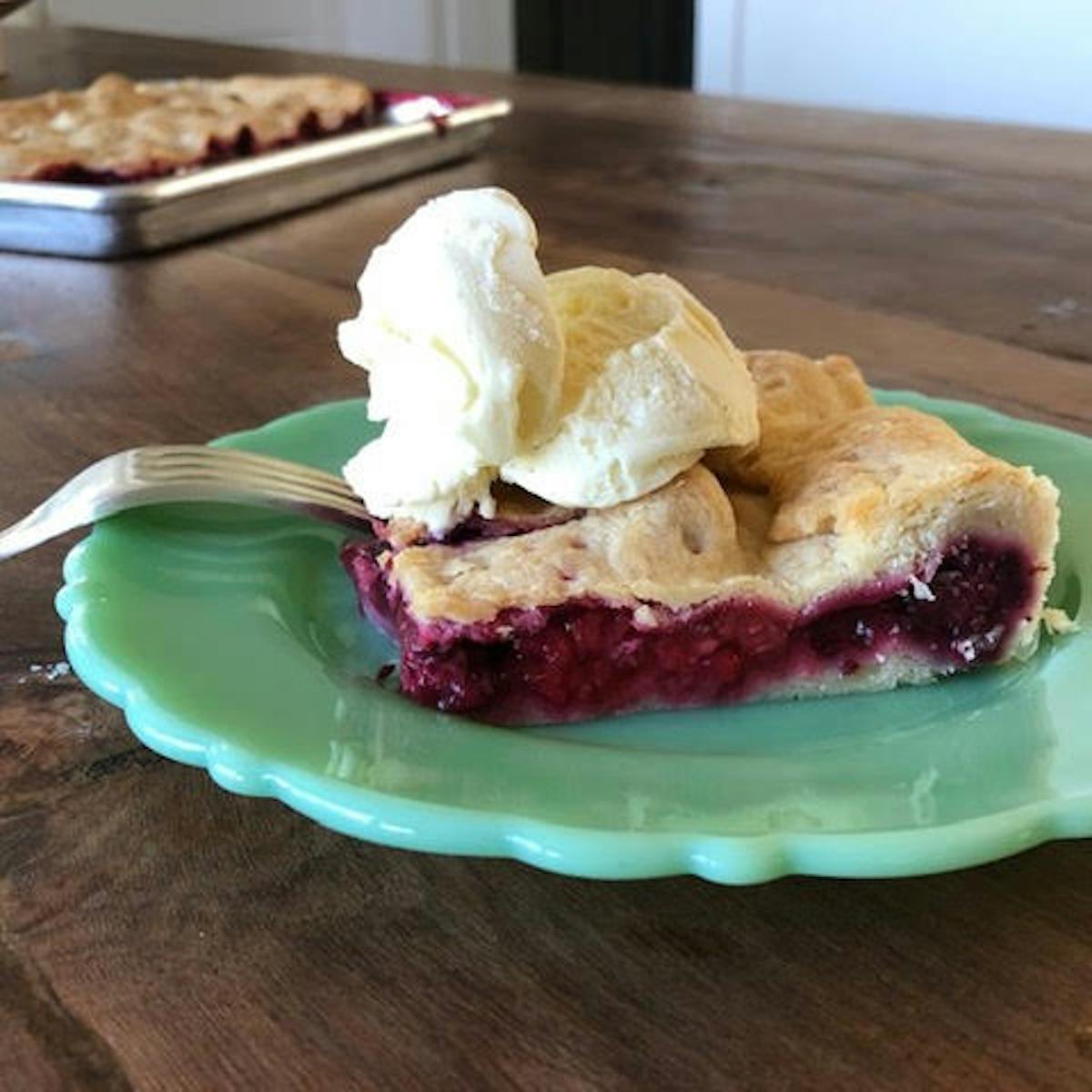 I have a huge fascination with the South; I always have and I know I always will. If it weren't for the humidity and the skeeters I'd live there, but I suppose that's what everyone who doesn't live in the South says about living in the South.
In the southern states, simple things are celebrated and dishes are measured on how they taste rather than how they look. C'mon, have you ever seen a good-looking plate of Scrapple or biscuits and white pork gravy? I have spent a lot of years trying to get an appetizing shot of my corned beef hash and eggs, and to this day, I still haven't been able to do it.
While some may consider slab pie the "ugly cousin" of fruit-filled pastries, I happen to love the way it looks. Okay, compared to a lovely lattice-top pie it seems a bit dowdy, and when placed on a buffet next to a traditional double crusted pie with its golden-brown dome-shaped top and fluted edges, it may cower a bit. But the slab pie is a beautiful cross between a big ol' homemade pop tart and a Hostess Fruit Pie (alright I said it… it sort of tastes like a Hostess Fruit Pie).
This pastry can be hand-held and eaten like a big bar cookie, but I prefer it eaten with a scoop of vanilla ice cream. By the second day, it's set enough to eat by hand or pack for picnics. Super summery, don't you think?
Slab Pie
Bake this in a 9" x 13" sheet pan or cookie sheet with sides.
Preheat oven to 375-degrees
Bake for 35-45 minutes until crust is golden and berries bubble and ooze around the corners.
For the Crust:
The key to making flaky pie crust is to have all your ingredients very cold and work as quickly as you can so that the butter doesn't start to melt until it hits the heat of the oven and puffs up from the steam.
2 and 2/3 cups all- purpose flour
1 TBS sugar
1 teaspoon salt
8 TBS cold butter cut into cubes
3 TBS cold Crisco cut into cubes
1 cup cold water
METHOD:
Cut butter and shortening into small cubes and put in freezer.
Combine flour, salt and sugar in the bowl of a food processor.
Sprinkle butter and shortening over the dry ingredients and toss to coat. Pulse until the dry mixture pea sized but not smaller.
Place the dry/fat mixture into a bowl and add water a few tablespoons at a time. Use a fork to toss the mixture and evenly distribute the liquid. Continue to add water until the dough, while still shaggy, holds together when pressed against the side of the bowl.
Form the dough into 2 equal sized rectangles and wrap tightly, let cool in the refrigerator for at least two hours but no more than two days
For the Filling:
3 cups Blackberries
1 cup Raspberries
¾ cup Sugar
5 TBS Cornstarch
1 TBS Fresh Lemon Juice
½ tsp Salt
Place berries in a medium sized bowl and sprinkle sugar, cornstarch and salt over the top. Gently toss berries to cover with sugar mixture. Squeeze lemon juice over mixture and gently toss and set aside.
Remove dough from the cooler. On a floured surface roll the first dough out about two inches larger than your 9" x 13" baking sheet, it will be very thin. This will be your bottom crust. Make sure it is large enough to hang over the edge once it has gone up the sides. Carefully place bottom crust in position allowing it to hang over the edge. With a fork, prick holes every few inches to allow air to release when baking.
Lay berries in single layer over bottom crust and sprinkle with remaining sugar mixture left in bowl.
Roll out top crust to 9" x 13" or just enough to cover over the berries.
Place top crust over berries and fold flaps of excess dough on bottom crust over top of upper crust to create a seal. With fork prick top crust every few inches to allow air to be released from pie as it bakes.