Goodbye Summer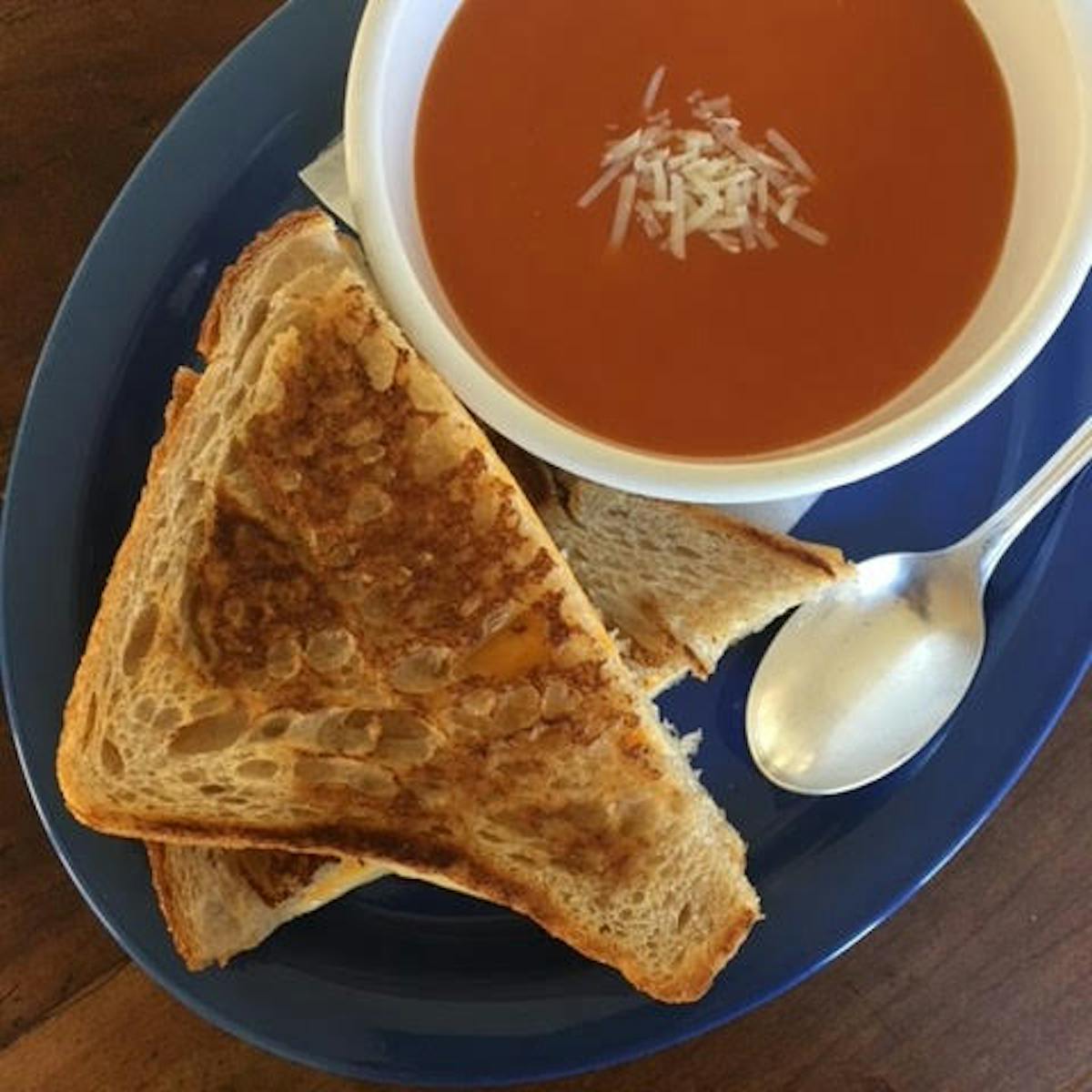 A Perfect Soup for End of Season Tomatoes
As much as I like summer with its laid-back schedule and relaxing family time, there is something about the kids going back to school, the sound of Sunday NFL games playing in the background and the arrival of fall produce that I love even more.
It's time to nest again, it's time to cook big Sunday dinners, and thankfully, its dark by dinner time which makes it easier to get kids to bed by nine o-clock!
The thing is – in Southern California, we still have summer heat in September and early October and an abundance of end-of-summer fruits and vegetables are still showing in our gardens and at local farms.
I, for one, still have a crazy amount of tomatoes ripening and even though I am a huge fan of the bacon, lettuce and tomato… there are only so many sandwiches a girl can eat.
This is my go-to, best version of tomato soup and it's a staple on the menu at Cafe 222. It's great for a light lunch or heft it up at dinner with a good ol' grilled cheese sandwich on the side. I'm going to say… it kinda tastes like Campbells… only brighter. I think it's due to the carrots as they add an additional layer of flavor and a bit of heft to the puree. In my book it is not a bad thing it reminds me of Campbells Tomato Soup, it is the standard by all tomato soups are measured whether we like it or not, it was most of ours only experience of tomato soup growing up. And I'm pretty sure that if you were raised like I was your mom always opened a can when you were home from school or it was an especially rainy day and served it with either a grilled American cheese sandwich or a sleeve of Saltines for lunch.
It's a pretty straight-forward recipe, but feel free to make some changes; any variety fresh tomato will do, you can stir in a of cup of cream at the end after blending for extra richness like I do at home, and you can always omit the salt and sugar if you have any dietary restrictions.
ROASTED GOLDEN TOMATO SOUP
3 Pounds ripe golden heirloom tomatoes, cut in quarters.
½ Pound carrots, peeled and diced
1 Medium white or yellow onion, diced
3 Cloves peeled garlic, rough chopped
1/3 Cup olive oil
2 TBS butter
1 28-ounce canned plum tomatoes
1 Quart chicken stock, veggie stock or water
1 Tsp Salt
2 TBS Sugar
Toss the tomatoes in olive oil and roast in a preheated oven at 400-degrees until slightly browned (about 20 minutes). Remove from oven and allow to cool.
In a 6 or 8- quart pot, sauté carrots, onions and garlic in butter over medium heat until vegetables are soft and aromatic.
Add canned tomatoes, roasted tomatoes including drippings, sugar, salt and stock to pot.
Allow to cook for 25-30 minutes until all tomatoes and vegetables are tender.
Allow to cool.
In small batches, puree soup in a Vitamix or blender.
Taste and season with additional salt or sugar as needed.
Garnish ideas: parmesan cheese, basil oil, pesto or garlicky croutons.