Cauliflower Tacos "Buffalo Wing" Style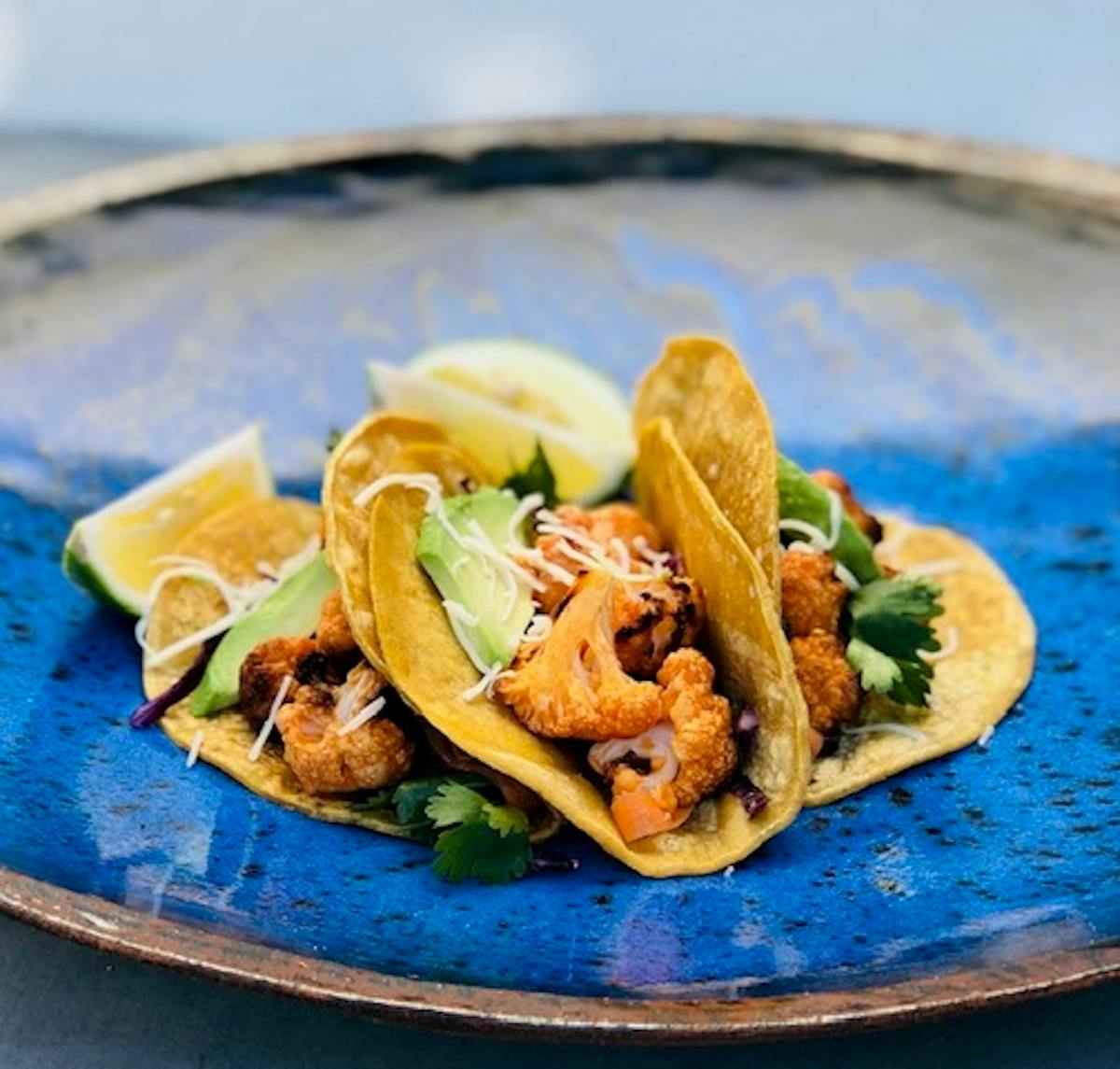 A Hot, Spicy and Healthy Dish for the New Year
Anyone who knows me knows that I tend to eat both healthy and how should I put it… not so healthy? I have always been big on eating a small and protein packed breakfast, a small and healthy lunch and then I just damn break bad at dinner. By breaking bad, I don't mean fast food or greasy deep- fried food every day, but I don't worry about every little thing at dinner. I'll make meatloaf and have seconds, I'll have pasta with a cream sauce and I'll have my bread with salted butter please. Heck, I'm famous for eating the Bankers Hill burger every week or so… BUT, not without putting in my time on the treadmill or swimming. It's my trade off and balance in life… "work out hard- eat hearty" has become my motto I guess. The two don't have to be mutually exclusive however. There are plenty dishes these days that are long on taste and short on fat and calories. This easy vegetarian riff on buffalo chicken wings is a big hit at my house and even with my kids. It has all of the components and flavors of the popular bar snack, but it is lightened up by using cauliflower instead of chicken, is baked instead of fried and served taco-style– which turns it from a snack to an instant dinner. You can dress this up as much or as little as you like; if you dare, try a little drizzle of ranch dressing on the top and you won't be missing anything from your favorite football watching food except for a few of the calories.
Buffalo Cauliflower Tacos
Buffalo Cauliflower Florets
1 LG Cauliflower broken into ½ inch florets
1 Cup Flour
½ Cup Milk
½ Cup Buttermilk
½ Tsp Onion Powder
½ Tsp Garlic Powder
½ Tsp Salt
1 Cup Hot Sauce (I use Frank's)
2 TBS Honey
1 Tsp Worcestershire
Avocado Crème
2 Each Ripe Avocados
½ Cup Plain Non-Fat Greek Yogurt
1 Clove Fresh Garlic Minced
1 TBS Fresh Lime or Lemon Juice, plus more if desired
¾ Tsp Salt
Slaw
1 Carrot (grated)
¼ Cup Red Cabbage (thinly sliced)
5 Ounces Cilantro (roughly chopped)
2 Celery Sticks (shaved with a peeler)
For the buffalo cauliflower:
Preheat oven to 450 degrees
In a medium sized mixing bowl, whisk the flour, milk, buttermilk, onion powder, garlic powder
and salt together until smooth and no lumps appear. Set aside.
Place a wire cooling rack over a sheet pan and spray lightly with pan spray.
Using a slotted spoon, dip the florets into the batter and allow excess to run off. Place on wire rack allowing about a half an inch between each piece.
Bake for 20-25 minutes or until lightly golden brown. Allow to cool for 5 minutes before handling.
In a medium sized mixing bowl, combine the hot sauce, Worcestershire and honey.
Lightly toss the cauliflower in the hot sauce mix and return to wire rack. Place in oven for another 10 minutes until sauce begins to caramelize. Remove from oven and allow to slightly cool.
For avocado crème:
Place all ingredients into the bowl of a food processor and pulse until the consistency of a creamy salad dressing.
For slaw:
Lightly toss the carrots, cabbage, cilantro and shaved celery with half of the crème.
To build tacos:
Place a row of slaw in the center of a tortilla, top with cauliflower and drizzle of remaining avocado crème. Salt and pepper as needed.
*Option to garnish with shredded jack cheese, sliced avocado or Ranch dressing.