A Girl and Her Chocolate Pot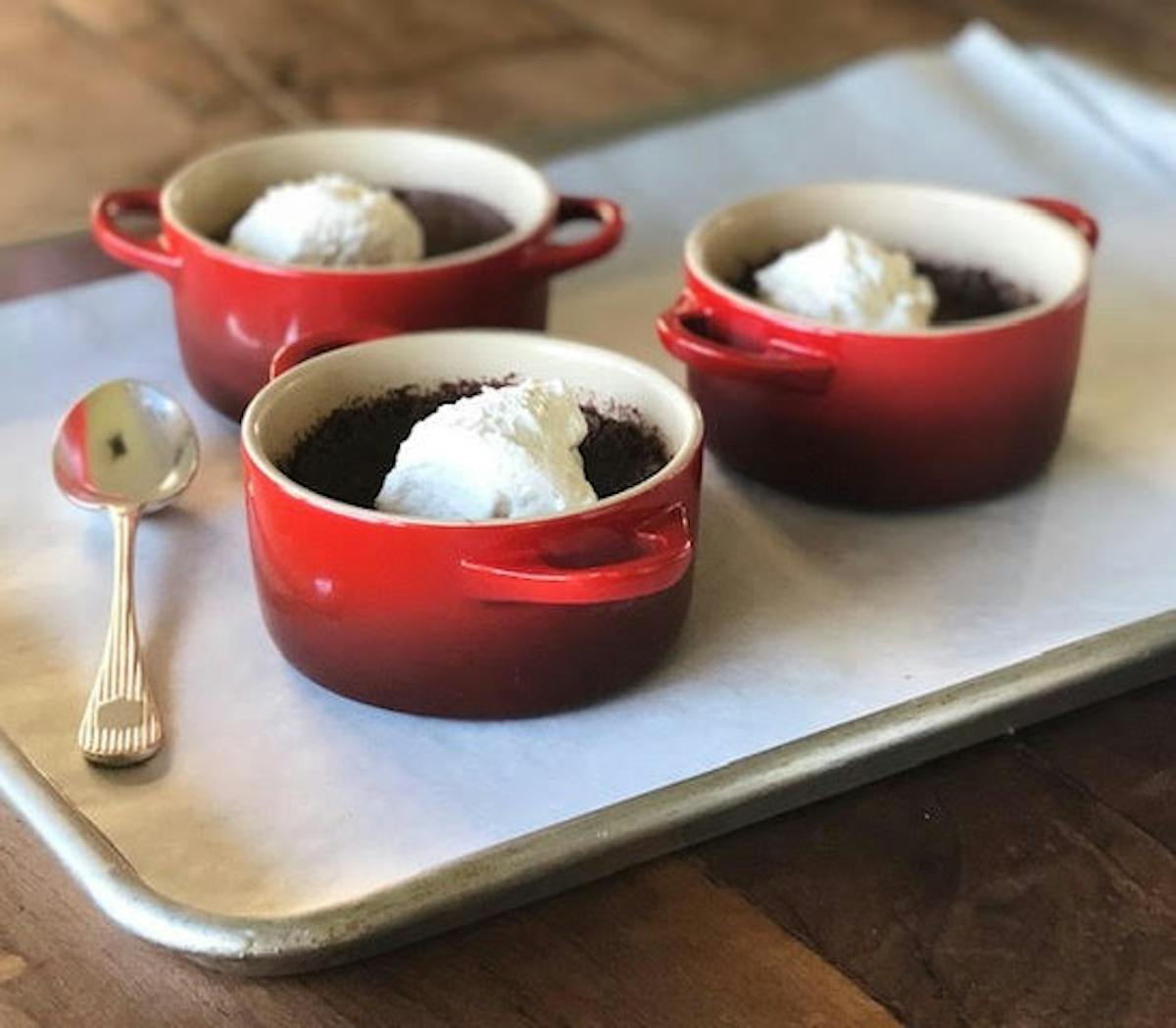 From the time my daughter, Paisley, was a toddler she has loved chocolate. She prefers dark chocolate over milk and the more bitter, saltier and higher cocoa content, the better. "Well it is an antioxidant," she reminds me.
This recipe, which I named for her and served on our dessert menu at ACME Southern Kitchen, is easy and quick to make. The result is little pots of salty, melty, gooey, to-be-eaten-warm-right-out-of-the-oven-goodness. The key is to not over bake them… although you will be tempted to leave them in the oven, you have to remove them before the center bakes through. Think warm lava cake… not brownie. I usually bake these in half-pint mason jars because they are so rich that a small portion is all one needs to get their chocolate on. As for the leftover portions, I just screw the lid on and pop them in the fridge where they will last for about a week. When ready to serve, remove the metal lid, cover with plastic wrap and microwave for about 30 seconds, just long enough to warm them and not cook the gooey middle.
Be sure to plop a scoop of vanilla ice cream on top or a dollop of whipped cream when serving.
Paisley's Pot O' Chocolate
4 Eggs
2 Cups sugar
2 Sticks melted butter (cooled to room temp)
4 Heaping Tablespoons cocoa (the higher quality the better)
4 Tablespoons AP flour
1 Tablespoon vanilla
½ tsp salt
Preheat oven to 350 degrees
Beat eggs until light in color.
Add the sugar and mix until combined. Don't over mix!
Add all of the remaining ingredients.
Mix gently until combined.
Fill (ungreased) jars or ramekins ½ inch from the top.
Place jars or ramekins in a cake pan filled half way up with hot water.
Bake until the upper crust is set, almost crisp, and the rest of the batter is firm but not set, about 35 – 40 minutes.
The cakes should crack when cooled and middles should not be cooked through like a brownie.
Makes 12 half-pint mason jars.